Content Marketing, Content Strategy and Audience Building
Much has been written about the phrase "content marketing" but what actually is it?
A focus on your audience
Content marketing has emerged over the past eighteen months as the new hot topic in digital marketing – the latest silver bullet to win you more traffic. A significant factor in its rapid rise has been efforts by Google to drive organisations to focus upon their visitors, rather than to focus on any tactics that may (or may not) improve levels of traffic from Google's own web properties.
A significant proportion of digital marketing effort now, more than ever, needs to be on what it is that your visitors, potential visitors and your wider audience really want. How do they engage with your products and services, and what brings them back?
Research is crucial
The first step is to carry out research, be it using tools such as Experian Hitwise, tools to analyse tweets (e.g. http://www.tweetarchivist.com/), your own web analytics (e.g. Google Analytics), running questionnaires on your website – the crucial aspect is to thoroughly understand who you need to target.
Cost-effective creative experimentation
The second step is to identify ways in which you can cost-effectively experiment. This could take the form of writing some focused content and measuring the results or it may involve commissioning something more substantial. Either way we believe that taking small steps, being highly creative, measuring the results, and then learning from them is the route to a sustainable and cost-effective content marketing strategy.
Competition is increasing
As this snippet from an SEOMOZ blog post shows, "54% of B2B (business to business) companies are planning to increase their content marketing spending in 2013". Content marketing is showing no signs of slowing down in its popularity, and is clearly becoming an essential part of any digital marketing strategy.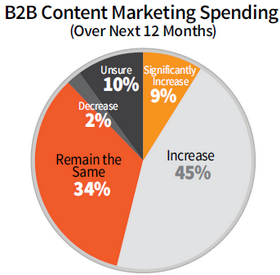 We can help
We can help manage the process of researching, developing and delivering cost-effective and creative content marketing strategies, wherever you are in the world. Contact us today and find out how we can help.