Information Architecture and User Experience Design
The information architecture (IA) and user experience (UX) designs are a vital part of the web site design process. The IA defines how your new web site is going to be structured, and the UX designs show how each page should be laid out.
Information architecture
Using the results of the relevance analysis as well as a knowledge of key product/service areas (current and forthcoming) and taking into account any legal and regulatory guidelines that apply to your business, we put together the first draft of the information architecture (IA) for the new site. This is then tested with key stakeholders and changes made where necessary. The result is a detailed site map that is used as the blueprint for building the structure of the site.
An example is shown below: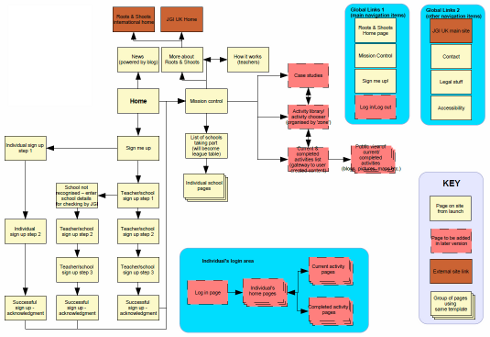 If funds and time are available, we suggest that this is then tested with some real people, recruited to fit your target profile. Their feedback would allow careful and precise refinement of the information architecture. We use a trusted third party to provide recruitment and testing services, which ensures that the outputs are free from any bias that is likely to be introduced by having testing carried out by the same people who developed the prototype information architecture.
User experience design
Next, we work on the user experience (UX) design. This determines how the pages of the new website should be set out to easily allow your customers to reach their goals. Here we also consider any known technical constraints that may have an impact on what we can do. The result is a set of blueprints, called wireframes, for each page of the site, like the one shown below: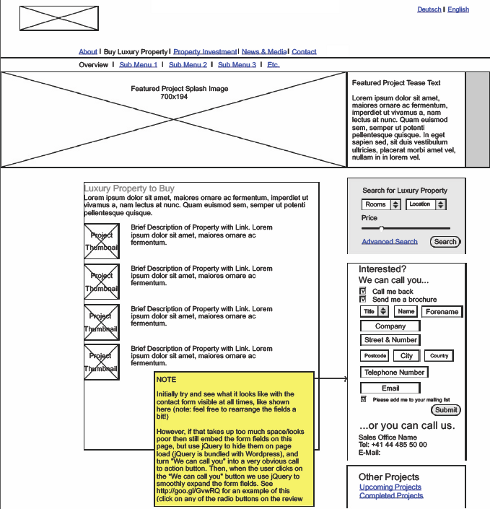 Again, if budget and time allow, we recommend user testing these wireframes to ensure that they provide the best possible layout for your target audience. These wireframes will form the basis for the graphic design of the new web site.