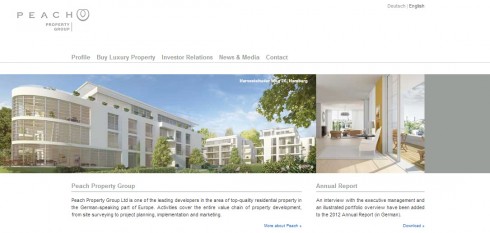 About the project
Refined Practice have been working with leading Swiss real estate firm Peach Property Group on a number of their websites since 2010. As well as being a multilingual project (German and English) the "Buy Luxury Property" Peach Property Group corporate websites demonstrate our skill in incorporating 3rd party systems seamlessly into a content managed site (in this case a Salesforce based CRM system).
In addition to work on the corporate website, we have also helped Peach with email marketing campaigns, microsites and a number of 'back office' projects to support their online brand.
What the client has to say…
"Refined Practice provide professional solutions in online marketing strategies and developments. They are conceptually strong and get things done efficiently and with great knowledge of technical issues."
Albert Halter, Head Marketing and Communications, Peach Property Group AG
---
Want more from Refined Practice?
For all the latest updates, follow us on Twitter:
Or like us on Facebook:
---